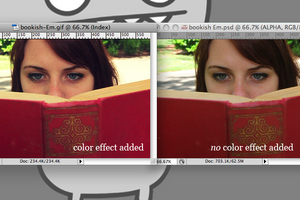 When you think of a photograph you picture a moment suspended in time. But what if you could suspend multiple moments in time? Now you can! After seeing some moving pictures, people from
Photojojo
wanted to replicate the effect and posted a
tutorial
on their site.
First it is important to grasp how the picture can move. Graphics Interchange Formats (GIFs) allow movement of photographs to be shown. It is basically a format that supports animation. After the basic concept is grasped, the basic tools need to be acquired.
Tools Necessary:
A camera with video capabilities
A tripod
A vision for the scene
Model(s)/prop(s) needed for scene
A computer
Access to Adobe Photoshop
Access to a video editing program (optional)
The the tutorial shows step-by-step how to create a cinemagraph of your own. From visioning your scene to framing the scene, the instructions are thorough.
Would you like to create a cinemagraph? What would your scene be?
Source:
Ad blocker interference detected!
Wikia is a free-to-use site that makes money from advertising. We have a modified experience for viewers using ad blockers

Wikia is not accessible if you've made further modifications. Remove the custom ad blocker rule(s) and the page will load as expected.