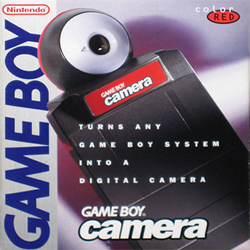 The Game Boy Camera (Japanese: ポケットカメラ) is a camera accessory for the Game Boy handheld gaming console, released in 1998. It can take black and white images in 128x112 resolution, which can be printed out with the Game Boy Printer accessory.
Aside from the original Game Boy, the camera is also compatible with Game Boy Pocket, Game Boy Light, Game Boy Color, Super Game Boy, Game Boy Advance, and Game Boy Advance SP.
The camera was aimed mainly at children and released in Japan, North America, and Europe.
Ad blocker interference detected!
Wikia is a free-to-use site that makes money from advertising. We have a modified experience for viewers using ad blockers

Wikia is not accessible if you've made further modifications. Remove the custom ad blocker rule(s) and the page will load as expected.