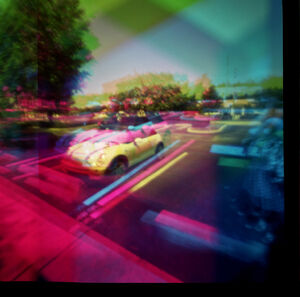 Photo by Flickr user Griffin Matthews
The Diana camera is a "toy camera" that originated in the 1960s produced by the Great Wall Plastic Co. in China.
Since Lomography began making their version of the original Diana camera in 2007 new add-ons and versions of the camera have been created, including the Diana Multi Pinhole Operator.
This pinhole camera has the option of using between 1 and 3 pinholes in each shot and color gels that can be used to provide the psychedelic effect the camera is known for.
Ad blocker interference detected!
Wikia is a free-to-use site that makes money from advertising. We have a modified experience for viewers using ad blockers

Wikia is not accessible if you've made further modifications. Remove the custom ad blocker rule(s) and the page will load as expected.